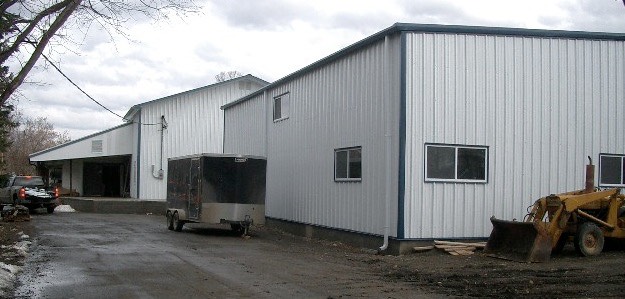 Main Buildings at 102 E. Railroad Ave., Knoxville, PA 16928
Liberty Seamless Enterprises was founded by President Kurt R. Heisey who had a seamless gutter company and realized that there could be better machinery that could be made. He called several manufactueres with his ideas, and they said that it could not be done. So he set to work with a local shop and ended up with their very first portable downspout machine in 1998. Since then, Liberty has developed and designed the manual elbow machine, half-round gutter machine and other downspout machines along with various other machinery items.
Kurt continues to lead Liberty with the newest line of machinery for the HVAC industry: the spiral tube machinery.
Kurt is also active in his church, having founded Valley Christian Church in 1989, and continues as the Overseeing Pastor. Numerous times a year, Kurt travels to other countries for missions trips to help those that are needy. He has authored several books and teaches on God's view of finances, leadership and other topics when overseas.
We have now expanded our operations to have offices in Knoxville, PA as well as in Wuxi, Jiangsu Province in China.
History
Years ago when we bought our first seamless gutter machine, we found out that we could buy coil quite inexpensively and have a low cost per foot for our gutters. However, when we went to buy downspout and elbows, we had to pay almost as much per foot as we had into our gutters. We knew that our suppliers didn't make much on coil, but made up for it in their profit margin in downspout and elbows. If you could only have a downspout machine, then you could save thousands of dollars by buying downspout coil instead of already formed pipe.

Well, we did that. We paid out big bucks to buy a commercial downspout machine. It works fine and makes great pipe and we were saving money and making more profit than our competitors. They could not afford to sink $60,000 to $150,000 into a downspout machine. However, we still had lots of scrap from our 10 foot lengths of pipe used out in the field. We also got tired of buying those dreadful cardboard boxes. Someone had to design a new downspout machine that was within the reach of the average gutter company. Why not us?
We talked to seamless gutter companies and asked what they wanted in a downspout machine. Here's what they came up with:
1.Portable. They wanted to make their downspout cut to length on the job site.
2. Lightweight - under 1000 pounds to haul without overloading the truck.
3. Affordable and have a quick payoff time in savings, less than three years.
4. Powered by 110 volt. It must run off regular household current.
5. Short - Maximum length would be 10 feet.
6. Durable - It should be able to run pipe consistently without a lot of adjustment.
7. Could it make Elbows? ?
An elbow attachment on the end would be a dream come true.
Well, I talked to several downspout manufacturers and was told that such a machine was impossible to make. IMPOSSIBLE!? I began thinking. I contacted a friend of mine who ran a metal shop and showed him what I wanted in our downspout machine. Then, I asked if we could build a machine that would be light, portable, dependable, affordable, 110 volt, under 10' that could have an elbow attachment on the end. Like myself, he took the challenge, and we began a quest to build a dream downspout machine that would fit all these requirements.

Well, making dreams come true doesn't come easy. Our first successful downspout machine was built so many times that we lost track of how many revisions had been made. Just when we were close to our goal, we had to go back to the drawing board and redesign different aspects of the machine. We wanted the first machine to be the best machine anyone could ever make. We wanted to use as many off the shelf parts as possible to keep costs down and to make replacement parts as inexpensive as possible. Finally, we developed a machine, not just any downspout machine, but the dream machine, for it fits all the requests of our gutter companies:

1. Portable - Our machine is the ONLY portable downspout machine made.
2. Lightweight - We went under our target of 1000 pounds to 475 pounds! Using our trussed base we were able to have a solid machine that was very lightweight without compromising the stability of the machine!
3. Affordable - Under $30,000, with a 2 year payback in savings for an average gutter truck.
4. Powered - It is 110 volt, single phase, 12.3 amp motor powered by 20 drive rollers.
5. Short - We came in under our target length of 10 feet in length to an amazing 77 inches long!
6. Durable - With our integrated trussed stand included, our machine does not get out of line easily. It has been 8 years since our first machine the the first one is still out in the field working on the back of a trailer. In fact, an Amish man with no electric has it running off a gasoline engine!
7. Elbows - We have a separate elbow machine that enables you to make seamless
elbow offsets (elbows and intermediate length in one piece)!

Office:
102 E. Railroad Ave.
Knoxville, PA 16928
Phone: 814-326-4121